Welcome

Welcome to the website of the Friends of Cator Park and Alexandra Recreation Ground.

We were formed in February 2008 in response to an appeal by Bromley Council at an Open Meeting organised by them and held in the Holy Trinity Centre. Many of us on our committee had already been concerned at the neglectful state of both parks and wished to do something about it. We have been trying to do just that for the past six years and have won many awards. But we need your help so do join us!

We are unusual in that we oversee the well-being of two parks, not one. So we have double the work to do and have to make sure there are fair-dos for both parks. So far we have achieved a lot.

We have staged events in both parks in the years 2008/2009 e.g. Tea in the Park (Cator: June 2008), Green Chain Walk (Cator: August 2008), Music in the Park (Alex Rec: September 2008, 2009, June 2010, July 2011, June 2012, July 2013, July 2014; Cator: September 2009); Bulb Planting (Alex Rec: November 2008, 2009, 2010, 2011, 2013, 2014; Cator: September 2009, 2010, 2011,2013,), Carols in the Park (Alex Rec: December 2008, 2009, 2010, 2011, 2013,2014), Summer Walk: Our Post-Victorian Heritage, (transversing Cator and Alex Rec and nearby environs, August 2009); Penge Heritage Walk, starting and ending at Alexandra Nurseries, August 2013; the Autumn Tree Walk, (Cator and Alex Rec: October 2009, 2010, 2011,2012); the Spring Walk (Cator and Alex Rec: 2010; April 2011, 2012, 2013) the Bat Walk (Cator, April 2010; April and August 2011, May 2012, September 2012, June 2013,June 2015) and the Bird Walk, August 2010, June 2011. All were a great success and very well-supported. Last year we made a contribution towards the cost of the Christmas Lights in Penge.

In 2012 we were awarded a total of £400 from Bromley Council for our work in the parks. We gained new flags and certificates in recognition. We were awarded another £200 in 2014 and 2015.

Our sixth Annual General Meeting will took place on Thursday October 2nd, 2014, at 7.30pm at Holy Trinity Centre, Lennard Road. Our Guest Speaker was John Getgood who spoke about his work as a former councillor and his vision for Penge. We need new members for our committee so why not come along and put yourself forward?

Our ever popular Music in the Park event will take place on Sunday July 26th 2015, with the Beckenham Concert Band in Alexandra Recreation Ground starting at 3pm. Why not bring a picnic and invite friends and family.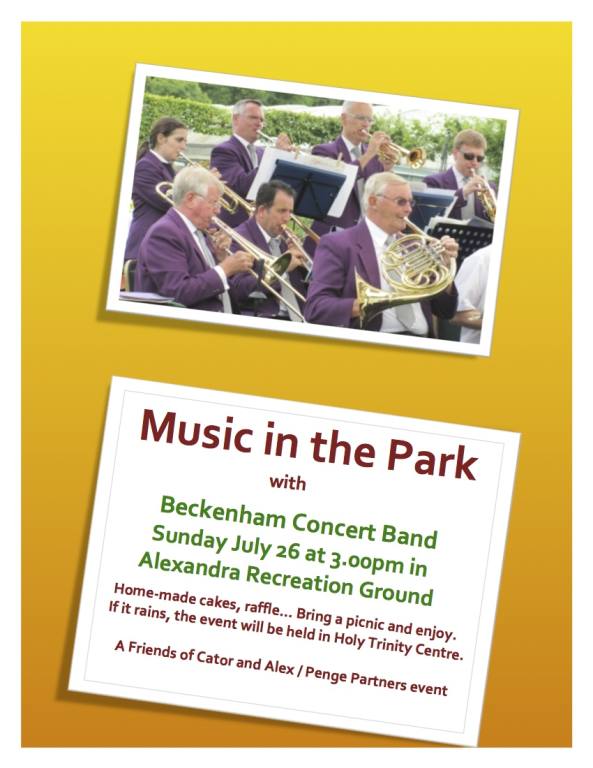 Last December we had another successful Carols in the Park event in Alexandra Recreation Ground on December 15th, 2013, and managed to award the Living Well charity £100 after expenses had been settled. We were supported by the Beckenham Concert Band, gave out free mulled wine and mince pies afterwards,and a good time was had by all. Over 100 people attended.Another is planned for 2015.

If you are a member and have not renewed your subscription please do so. Thank you for your support.


Our aims, as you see, are to bring some life back to both parks. We are conscious of the need to maintain a 'green' environment in both parks. Our Mission Statement encapsulates this. Recently we won another People for Parks award, 2013, for our efforts and expecting a further award for 2014. You will see our new golden flags flying in Alexandra Recreation Ground and in Cator Park. Award certificates are displayed on both Friends notice-boards. If you join us you will receive a seasonal newsletter. This website will keep you posted with all our news, both past and present.

So – what are you waiting for? Find further details on the How To Join page. We hope to see you as a Friend at some of our future events.


.

Please click here for the Nomination Form: